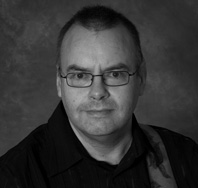 John was born and educated in Rochdale at Greenhill School, where he developed a love for music in general and a desire to perform folk music. John continued his studies at UMIST and graduated in 1975.
During this period he was active on the Rochdale folk scene performing regularly at the folk clubs at the Fisherman's, the Castle and the Sawyers where he developed his vocal and instrumental techniques. Before moving to Lancaster to train as a teacher he broadcast on "Newfolk" on Radio Manchester.
During his time in Lancaster he played extensively around the area, contemplated a career in music and met his future wife Anne.
On return to Rochdale, he continued developing his craft around the local folk clubs in the Rochdale, Oldham and Ashton areas.
Anne and John married Christmas 1979, Anne having moved to Rochdale to teach music. They started to collaborate musically and in 1982 opened a music club at the Brownhill Hotel with Mike Cooper (another exile from Lancaster) – this continued until the birth of their first son in 1990.
After the arrival of children, John continued as a solo performer but also played guitar, bass and mandolin for other musicians (John Barker, various blues sessions – also Irish Traditional music sessions around a succession of venues in Manchester) and became heavily involved in contemporary church music. Throughout this time, the old crowd still popped up – most notably in the traditional dance band "Band of No Hope".
John's current involvement outside False Knight is as lead guitarist, engineer and producer for Crimson Scarlet.