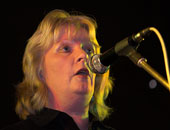 These songs (and several more) were recorded between 1985 and 1988 on a four track Tascam Recorder. These tracks were never intended for publication at the time, they were used to develop parts and arrangements and give some kind of foundation for migrant musicians.
The tapes "got lost" after the arrival of children and surfaced again in 2003. Some of the masters were transferred to digital media in 2005 with a view to putting together a retrospective of the band. Unfortunately other projects got in the way of this and the tracks languished on cd backup until the motherboard of my digital studio fried... Since all of Crimson Scarlet's latest album was on the same hard disk... it became necessary to do something - so these tracks have been rescued and mixed as a statement of what we were doing 20 years ago.
Guessing the exact date, and even some of the instrumentation has been something of a problem – this is close as I can guess after all these years.
Please click the download links below and listen to samples of our music.
Seven Yellow Gypsies (Words Traditional - Music J Butterworth)
One of the towering stories of the music, the Lord's new wife, (possibly foreign, probably a gypsy also) is charmed by the man who knock at the castle door. She goes with them (fast seduction not abduction). The Lord comes home, finds out what has happened and chases them. He reminds here of the comfort she has left behind and she tells him she is not in the least bothered. In some versions he casts her out and marries another, in this one he casts her out and has her "abductors" hung. Interestingly, I have never found a version where she returns.
Instrumentation Stafford Custom Acoustic Guitar in DADGAD altered tuning, bass is a Guild B302 Fretless. Two voices. Recorded as a distant stereo pair with an additional close microphone for guitar – bass overdubbed after initial tracks recorded.
Download MP3 below:
Black Is The Colour (Traditional - Arranged J Butterworth)
Simple song – what Anne calls a silly woman song. The woman is singing about how much she loves her true love – says it all really – but compare and contrast with "When I Was In My Prime".
Instrumentation Stafford in conventional tuning. Recorded by close miking voice and guitar in one take – as close to live as it gets.
Download MP3 below:
Bonnie Bunch of Roses (Traditional - Arranged J Butterworth)
A Napoleonic song – the "Bonnie Bunch of Roses" is the Union and the song is a lament of (allegedly) Napoleon's widow, singing to her son and looking to the time when he will be strong enough to avenge her husband. The song has a Scottish feel to the melody (sympathy of the Scots to the French, and hatred of the English is well documented).
Instrumentation This is the only overtly produced track here. The guitar is layered acoustic and electric (The Stafford, and a Hagstrom Super Swede) both in DADGAD tuning. The bass has been re-recorded several times over the years – roll on non-destructive media, the mandolin is a very early Maya – a Martin replica.
Download MP3 below:
When I Was In My Prime (Traditional - Arranged J Butterworth)
A song of love gone sour. The singer compares the state of her relationships with flowers. Sad, reflective… hopelessness with dignity.
Instrumentation Martin 00028. Voice and guitar both close miked and recorded in one take.
Download MP3 below:
John Barleycorn (Traditional - Arranged J Butterworth)
What your Harvest Festival song should be! The song charts the cycle of life from the seeds being planted in the ground (death and rebirth) grown, ripened, harvested, crushed and killed (death and rebirth again) to finally emerge in good ale – for the cycle to be repeated.
Instrumentation Stafford acoustic, Guild B302 F Bass, Rudall Carte wooden orchestral flute.
Guitar, voices and flute recorded live as a distant stereo pair with an additional close microphone for guitar. Bass added as an overdub. Again, very close to live performance.
Download MP3 below: